European interest in starch potato protein
25 Feb 2019

A large delegation from the European Parliament will today be paying a visit to Avebe's high-tech vegetable protein plant in Gasselternijveen.
The MEPs Bas Belder, Jan Huitema, Annie Schreijer-Pierik nad candidate-MEP Bert-Jan Ruissen will be there. The member of Groningen's provincial executive for Agriculture, Henk Staghouwer, and Henk Jumelet of Drenthe's provincial executive will also be present. Avebe is the market leader in the area of potato protein for human consumption. The visit by this delegation underlines the importance that the European Parliament and the provincial authority attach to innovative and climate-friendly food production.
Demand for vegetable proteins is on the rise, both in Europe and worldwide. There is a significant market demand for vegetable protein that has the same functional properties as animal protein. This visit fits in with the European vision that a transition to more vegetable proteins is necessary to feed the world's population in the long term. Avebe's process of extracting high-quality vegetable protein from the starch potato responds to the increasing demand for vegetable proteins.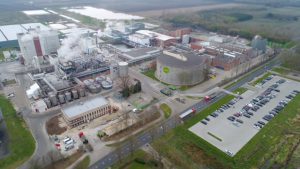 Avebe plant Gasselternijveen